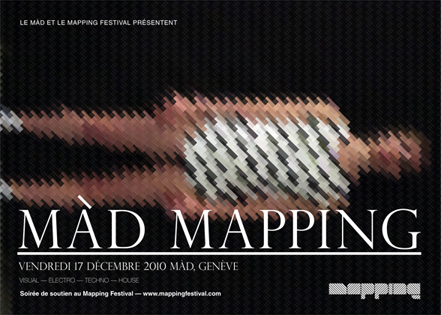 Màd Mapping
Support Party for Mapping Festival

VISUAL – Electro – Techno – House
A Mapping Festival party with Geneva dancefloor kids, but not everyone. For Vjs: Azadeeh, Camille De Dieu, Boris and Lupin, most of them are involved in Mapping Festival from many years. They are part of Mapping Vjs Crew, as we used to say, and don't leave their visual the festival indifferent.
For Djs: Daria, Sonja Moonear, Dachshund and Marie-Avril. Most of them are Dj and producer, this line up mix between electro, techno and house each with various influence.
Line Up Dj:
Daria (Cadenza/CH)
Sonja Moonear (Ruta5/CH)
Dachshund (Clapper/CH)
Marie-Avril (RaisonSociale/CH)
Visuals by Mapping VJs Crew (CH):
Azadeeh, Camille De Dieu, Boris, Lupin.
Doors from 23pm till 5am:
10.- / 8€ before 1pm
15.- / 11€ after 1pm